Alone we can do so little; together we can do so much
.
Our mission is to make it easier for LPs from around the world to find the right European venture funds to invest into and for UK and European GPs the right investors, by building a global community of forward thinking collaborators.
Our vision is to accelerate the European tech VC ecosystem to be the most active and best performing in the world.
ALLOCATE® was created in 2019 by GPs and LPs, for GPs and LPs. It is run by a small team supported by volunteers.
Both the community and the events run on a not for profit basis.
If you are an investor looking to back emerging European VC funds, or a fund manager looking to meet investors that match your fund size, team, and strategy, then ALLOCATE® is the place for you.
ALLOCATE® 2019 was a huge success, with over 230 attendees: VC LPs, VC GPs, and ecosystem supporters. In 2020 due to COVID we ran an online event over 3 days, attracting over 150 LPs and over 300 GPs.
2021 has seen us hire a full time CEO to deliver on the next part of our mission, to launch our VC/LP community, focused on building human relationships between its members.
We believe by building trusted personal relationships everyone does better business. Our values as an organisation - and those we ask you to embrace as participants in the ALLOCATE community - reflect this. Shady operators should apply elsewhere.
A not for profit organisation
ALLOCATE was created primarily to support the European tech venture ecosystem, the community and events are run not for profit. The event costs are kept reasonable with ticket prices fair and affordable for all.
Any profits from events are used to support Allocate through the year. Membership of the Allocate community is charged on an annual basis, with retreats being subsidised when possible. Events vary in cost are are sometimes run free of charge if sufficient sponsorship has been raised.
The core full time team is salaried. Board members, advisory council members and committee members are all unpaid and contribute their time graciously, as volunteers.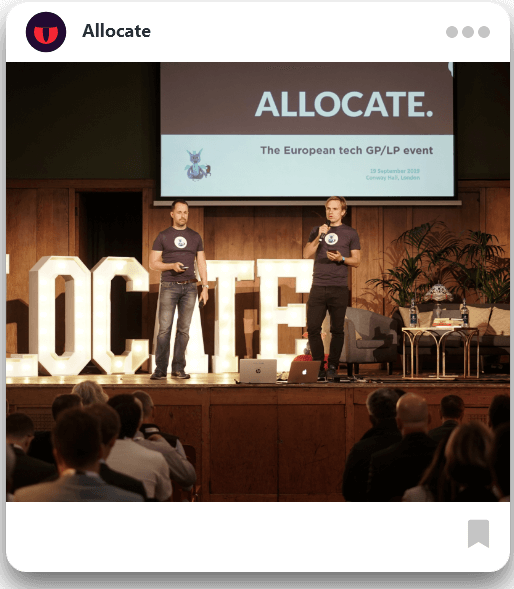 As long time operators and investors ourselves, we recognised that for GPs and LPs, identifying and connecting with the right partners across Europe's borders and beyond could be challenging and time consuming.
We felt it was time for a new type of event, separate from the wider world of PE and focused exclusively on serving those of us who work in and invest in potential high-growth technology venture capital funds. The ALLOCATE community was born.